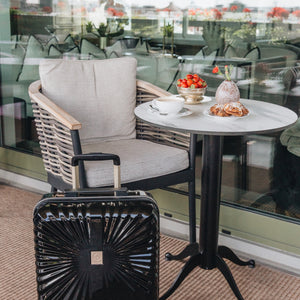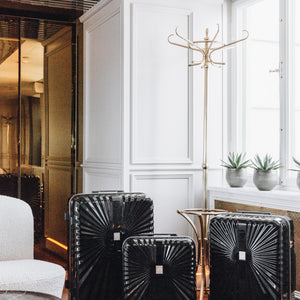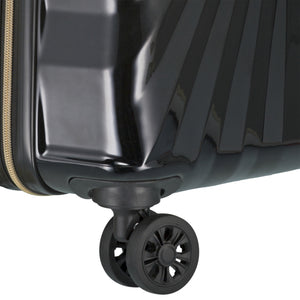 Starlight - Rich Black Set
Regular price
4 797 kr
0 kr
Unit price
per
Weight: 2.5 / 3.4 / 4.1 kg
Capacity: 39 / 69 / 105 L
Guarantee: 5 years
Measurements: 55 x 40 x 20 / 67 x 46 x 25 / 76 x 51 x 30 cm
Measurements include wheels.
The Starlight set includes a cabin, medium and large suitcase. This set is perfect for all types of travels. The Starlight model is a unique and fashionable suitcase with elaborated details created in high quality material that lasts. The material is strong, light and durable with a five year global warranty. The eye-catching and acclaimed design is inspired by a starlight that is placed along our golden logo. All components such as wheels, handles and lock match the shell in Rich Black. This timeless piece is an example of craftsmanship and great attention to detail. The cabin is ideal for a short weekend or business trip of 2-3 days.  The medium size is check-in luggage and is the ideal bag for travellers spending 4-7 days away.  The large size is check-in luggage and is the ideal bag for a longer travel of 7-14 days. 
Handles
The trolley tube is stable and adjustable on several levels for a customised fit. Our unique matt gold tube match the details of the suitcase. There is also a convenient top handle on the cabin, and both a top- and side handle on the medium and large size for easy grip and lifting when needed.
TSA-lock
The suitcase has an integrated TSA-lock for a safe journey, always. The zipper pullers are designed to protect the suitcase from shocks. 
Wheels
Our four-double wheel system gives you a quiet and smooth ride on all types of surfaces. The wheels can be rotated 360° for easy maneuvering.
Interior
Our interior is created for a smart and organised packing when exploring the world. There is a closable compartment to separate your belongings. The compartment also has a large mesh pocket for visible and smooth packing. The bottom compartment is equipped with an elastic cross strap that holds the packing in place. The fabric is designed with Printisso's iconic P for a unique and luxurious touch.
Size Guide

Which size should I choose?
The size of your suitcase should reflect how long you will be out travelling. Therefore, many travellers have several suitcases to match the type of travel.
Cabin: 55 x 40 x 20 cm
Perfect for a shorter weekend or business trip of 2-3 days. You can carry this luggage with you on the flight.
Medium: 67 x 46 x 25 cm
Perfect for a little longer travel of 4-7 days. This size is check-in luggage.

Large: 76 x 51 x 30 cm
Perfect for a long travel of 7-14 days depending on your type of travel and needs. This size is check-in luggage.
---